News
These Great Fire Pits Will Keep You Cozy for Outdoor Get-Togethers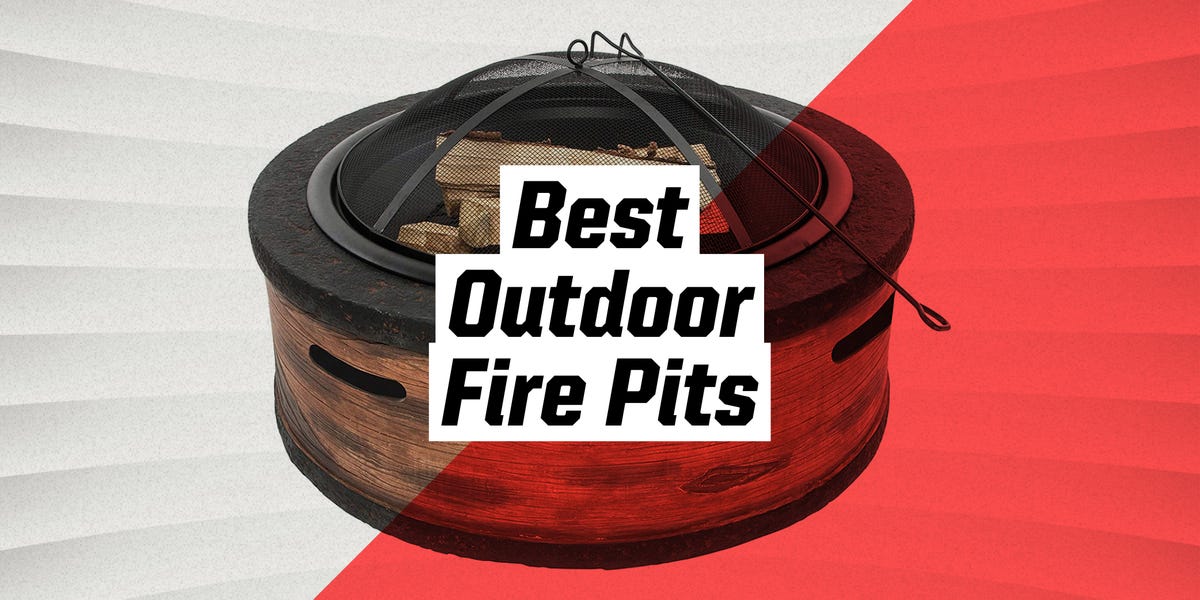 It seems like a lifetime ago when creative planning and everyday hacks weren't required for socializing. Outdoor get-togethers are the norm and will likely continue to be for a while, so it's smart to find ways to make those hours in the elements more comfortable and fun. These days, having a patio heater is essential for dining outdoors, but if you're looking to kick back with a group of friends, what you really need is a fire pit. Whether you have a tiny patch of backyard or a larger space that's fully furnished, fire pits are the answer to spending extended distanced time with friends and family in a way that actually feels normal. They're great to have now, with spring on the way bringing warmer early-evening temps — and will be essential for summer entertaining.
What to Consider
After considering your outdoor furniture setup and how much room you'll need, the first two decisions to make are style and heat source. Are you in the market for a sleek and modern table fire pit in stainless steel or a rustic fire pit built from stone? Fire pits are fueled by wood, natural gas, or propane. Some wood-burning models convert to grills, which is a nice option for an evening of outdoor entertaining. For propane-fueled fire pits, the number of BTUs it kicks out is important, particularly if you have a large space to heat. Depending on the size and type of fire pit you get, several come with extras, like heat screens, fire pokers, carrying cases, and covers.
How We Selected
We cast a wide net looking for top-rated fire pits in every style, type, and size, across a range of price points. The quality of building materials, plus features like weather-resistant and rust-proof exterior coatings, were strongly taken into account, along with smart design and ease of setup. Our selection includes picks that complement a range of decor and meet specific fuel-source needs. We also took portability, space-saving, and smokeless models into account.
Advertisement – Continue Reading Below
1
Best Wood-Burning Fire Pit
Stone Fire Pit
Sun Joe
amazon.com
$136.45
This rustic fire pit is a cozy addition to your backyard — and for a great price. It has a rugged, cast stone base with a charming decorative center ring, which elevates its overall look. It comes with a safety screen and fire poker, and it can hold hardwood logs up to roughly 20 inches long. And while it may look like it weighs a ton and would be hard to move, it's actually under 40 pounds. 
Drag over chairs and grab a hot chocolate or glass of wine and you're good to go for the evening. 
2
Best Propane Fire Pit
Rattan Fire Pit Table
Unknown
amazon.com
$384.99
If your outdoor furniture sits taller and you prefer a fire pit table that's more contemporary, check out this elegant piece. It's available in four different styles, but we love the look of the black handwoven rattan, which is versatile enough to complement any decor. It has a tempered glass top and the frame is made of powder-coated aluminum. Plus, it comes with a glass cover — great for serving snacks and drinks before igniting it to settle in for evening conversation — and delivers 50,000 BTUs of power.
3
Best Fire Pit Table
Weather-Resistant Fire Pit Table
Best Choice Products
amazon.com
$499.99
This attractive fire pit is sure to be the centerpiece of your outdoor setup. Its square shape works well tucked into the corner of a sectional sofa or with an arrangement of couches and side chairs surrounding it. 
There's plenty of room on its ledge to set down a drink, and, bonus: It comes with a side table, which ingeniously hides the propane tank. Both pieces are constructed of stainless steel, finished in a versatile dove gray. It delivers 40,000 BTUs of heat. 
To ignite the gleaming glass rocks, simply turn the knob and push a button on the side. It also comes with a weather-resistant cover.
4
Most Portable
Sunnydaze Wood-Burning Outdoor Fire Pit Bowl
Sunnydaze
amazon.com
$148.99
$119.00 (20% off)
Pick up and go with this fire pit — to a friend's house or from the patio to the lawn. If you're looking for a portable, wood-burning fire pit that has style, rather than the purely functional kind designed for camping, this one fits the bill. The legs fold underneath and the poker and screen all tuck neatly into a zippered carrying case with a handle. Plus, the steel frame is coated with high-temperature paint that's also rust-resistant.
5
Best for Wood Decks
Natural Gas-Fueled Concrete Fire Pit
17 Stories
Wayfair.com
$1,069.99
The patina on this minimalist, industrial-style fire pit looks rich and handcrafted. 
The piece is made from glass-fiber reinforced concrete, and a major plus is that it can be used on a wood deck — which is a safety hazard with many fire pits. Plus, it's naturally weather-resistant. There's a match-lit key valve for lighting it, and the flame is adjustable. For those with more space, it's also available in a slightly larger, taller size, plus a propane model if a natural-gas connection isn't an option.
6
Best Smokeless Fire Pit
Solo Stove Bonfire Fire Pit
34 Reviews
amazon.com
$349.99
The ever-popular Solo Stove Bonfire is one of the best smokeless fire pits on the market. 
It's wood-burning, with a stainless steel, double-wall design that's incredibly efficient at maximizing airflow. Vents at the bottom feed the flames and warm air travels up the sides to keep it burning. That amounts to a fire pit that has little to no smoke, which keeps your warm without leaving a smoky smell on your clothing. It gets bonus points for zero setup — plus it comes with a black drawstring carrying case. 
7
Best for Small Spaces
Bali Gas Fire Pit Cylinder
BALI OUTDOORS
amazon.com
$219.99
This cylindrical fire pit is tall and narrow, with a relatively small footprint, which makes it an excellent choice for those who don't have a ton of outdoor space. It kicks out an impressive 50,000 BTUs of heat, too, so you and your partner won't have to hover over the flame to warm your hands. The aqua-blue glass rocks sparkle under the flame, which is controlled with the turn of a knob on the side. It also has adjustable feet to keep it level on an uneven surface.
8
Best for Grilling
Bonnlo Wood-Burning Fire Pit
If a cookout and relaxing around a fire are on deck for the evening, your best bet is to invest in a multifunctional fire pit that does both jobs equally well — and it can double as a cooler in the summer. This one has a sizable grill surface for burgers and dogs, and a deep base to get the fire roaring for hanging out after dinner. It's a great choice for larger groups, plus it comes with a wide top screen, fire poker, and cover.
This content is created and maintained by a third party, and imported onto this page to help users provide their email addresses. You may be able to find more information about this and similar content at piano.io
Advertisement – Continue Reading Below
Most Related Links :
reliableuk Governmental News Finance News