News
The Best Mortisers for Creating Clean, Smooth Joints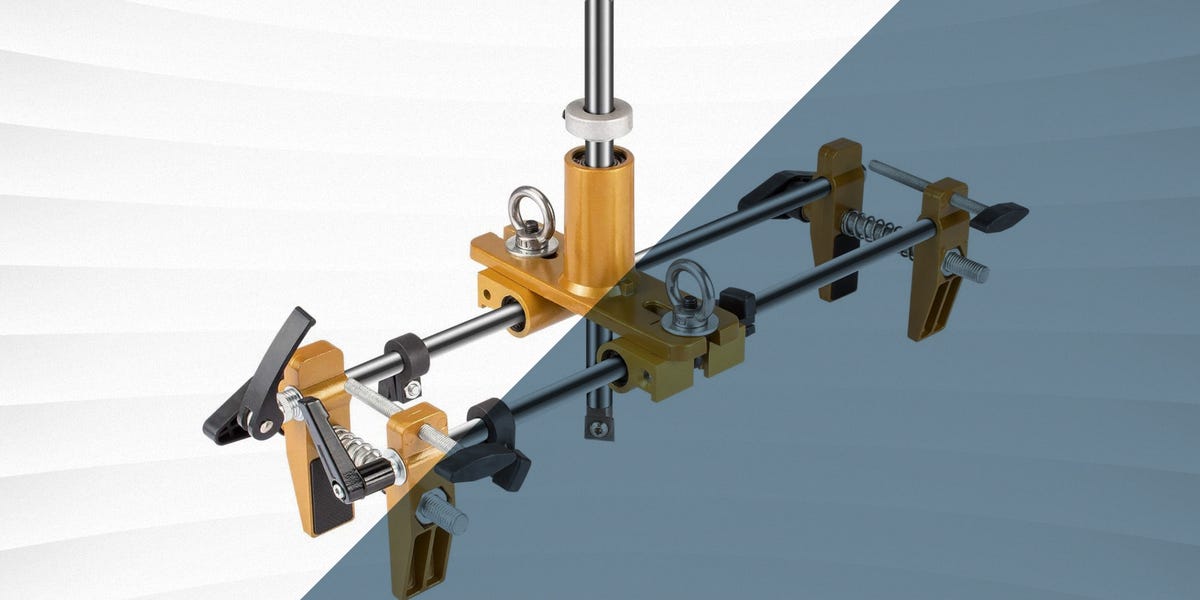 Staff, Courtesy of Luckyway
Mortisers come in several different types, but they all have the same purpose: to create holes in wood pieces for tenons to fit into. These "mortise and tenon" joints are popular because of the strength they provide to furniture pieces, and, thanks to mortisers like these, are relatively simple to create.
Although you can create mortises the old-fashioned way with a hammer and chisel, or with a drill press by making a series of round holes and then squaring them with a chisel, these dedicated mortisers are designed to give you square mortises with minimal chisel work needed.
What to Consider

The biggest factor to consider when choosing a mortiser, is the size of the wood pieces you're going to be using. Make sure to carefully note the maximum distance between the base of the unit and the bit, and make sure your pieces will fit between the two. Some have a fairly limited capacity, while others feature heads that can be reversed, so you're no longer limited by their base at all. For exceptionally large pieces, like rough timber, go with an option specifically created for that, like the Makita, chainsaw-style option below.
The type of mortise you're going to be creating is something else to think about. If you're just looking for an all-around mortiser for general joint use, one of the drill-press style options should be a great fit. These are designed with a fence to hold your workpiece in place, can accept a range of chisel and bit sizes, and tend to provide nice and accurate mortises.
On the other hand, if you're going to be using your mortiser for something else, like creating door locks, you're going to need to buy one specifically for that task. You could probably use another style of mortiser, but it definitely wouldn't be as efficient or precise. These lock mortises are designed to fit conveniently on the door themselves, although you will need to supply your own drill to power the unit. Make sure your personal drill is large enough to fit the bit, since some require a 1/2-inch chuck to work.
How We Selected
I frequently used mortise joints during my time as a residential and commercial carpenter, a career that involved custom furniture design and creation. I've used this experience to assemble this list of mortiser options, and ensure that whether you've got a specific project to tackle, or just want to be prepared for a range of mortising tasks, at least one of my picks will have you covered. Although I did our best to take pricing into account, most of our picks are still fairly expensive. If you're looking for a cheaper option, you might want to consider using a hammer and chisel and cut your mortises by hand.
1
Best heavy-duty option
Powermatic PM701
Powermatic
zoro.com
$599.99
The in-line depth stop of this machine allows you to precisely customize its operation to your specific mortising project, and you won't have to worry about making costly errors by cutting too deep. Plus, thanks to a double-locking hold-down system, your work piece won't slip or slide out of place while you're plunging the chisel. 
It's also designed for a good range of wood sizes, can fit objects up to five inches high, and the reversible handle can be easily switched to whichever side you prefer, without any tools needed. It doesn't include any bits or chisels, though, so you'll have to supply them yourself.
1725 RPM speed
The head can swivel to accommodate larger pieces
More expensive than similar options
2
Best Compact Option
JET JBM-5
Jet
amazon.com
$644.30
$574.31 (11% off)
The 44-pound weight of this machine is lighter than most of our other options, but that could be a benefit if you plan on moving it around the shop frequently, or transporting it to a separate job site. Despite this relatively light weight, this is still an impressively sturdy tool, and its cast-iron-and-steel construction should hold up well against regular wear and tear. If you need to work with extra-large workpieces that are otherwise too tall for this machine, you can rotate the head of the unit and use it without the base.
Removable on/off toggle switch
Includes three chisels
Expensive
Relatively low 1/2 HP output
3
Best for Dovetails
Delta 14-651
The 1/2-horsepower motor of this Delta machine can generate up to 1725 RPMS, allowing it to power through mortising projects quickly and easily. An adjustable depth stop prevents you from cutting too far into your piece, unless you're interested in cutting all the way through—in which case the base has a center through hole for doing just that. 
This model also features a storage tray on the rear of the machine, which includes spaces for up to eight bits, chisels, and accessories. It comes with four chisels, including one specifically for creating dovetails.
Includes set of chisels
Wide base
4
For Maximum Productivity
Shop Fox W1671
Shop Fox
amazon.com
$621.00
$479.99 (23% off)
Two support columns give this option a nice sturdy foundation, and combined with a rack and pinion adjustment system, make this mortiser a great choice for those who prioritize hassle-free operation. Its 3450 RPM speed is the fastest of all our choices here, and should help you power through mortising projects quickly, and minimize unsightly wood burns on your workpieces. 
The headstock also features doors on either side, so however you mount it, you should be able to easily switch out chisels whenever you like. It's designed to handle lumber as tall as 8.75 inches thick.
3450 RPMs
Powerful 3/4-horsepower motor
5
Best for Use on Rough Timber
Makita 7104L
Makita
amazon.com
$1,999.00
This Makita machine is designed for use on large timber and logs, and its rugged design matches its heavy-duty operation. It's also only 38.1 pounds, making it much lighter than the similar options on our list, and relatively easy to transport around. 
This portability is necessary when working with oversized logs and lumber that wouldn't fit into a typical mortiser. Its vise-like base conveniently adjusts to the wood you're working with and locks in place to ensure a nice snug fit. The open blade design does make this a bit less safe than most mortisers, though, so just keep that in mind.
Can plunge in 1/8-inch increments
Powerful 10.5-amp motor
Not as versatile as other mortisers
6
Best for mortise locks
Souber DBB
Souber
amazon.com
$224.95
If you're looking to mortise pockets for door locks, this Souber model could be just what you're looking for. It's not the cheapest option out there, but it could be worth the investment for those who need to ensure that they're creating precise and accurate cuts. 
We also appreciate how much thought went into both the transport box and the storage containers for the individual bits, which will not only make things easier to keep organized, but also prevent accidental damage. It also includes all the tools you need to make any adjustments, so you'll be ready to use it right out of the box.
Just 11 pounds
Comes with three bits
Expensive
Not practical for non-lock mortises
7
Best Budget Option for Mortise Locks
Luckyway Kit
Luckyway
amazon.com
$83.99
At less than $100, this lock mortiser costs significantly less than most of our other picks, and also includes an impressive amount of accessories. 
In addition to the frame needed to securely position your mortise, you also get a hand chisel, three bit heads, and a ruler, so even if you forget your measuring tape, this kit will have you covered. It also provides detailed instructions for working with mortise locks, making this a great choice for a beginner who doesn't have much experience. The entire set weighs about 11 pounds, and a handy storage case keeps everything safe and organized.
Low price
Lightweight design
Comprehensive kit
Only useful for door locks
8
Best Option Overall
WEN 43012
WEN
homedepot.com
$259.03
We're big fans of the protective chip guard of this 5-AMP WEN model, which flips down whenever you're ready to start mortising, and helps reduce the chances of accidental injury during use. It can accept bits from 1/32- to 1/2-inch, and includes three to get you started—1/4-, 3/8-, and 1/2-inch—as well as a chuck extension adaptor. 
All these tools, as well as four Allen keys for making adjustments to the unit, are all stored conveniently in an integrated storage tray, keeping everything within arm's reach.
2-year warranty
Rugged cast-iron construction
This content is created and maintained by a third party, and imported onto this page to help users provide their email addresses. You may be able to find more information about this and similar content at piano.io
Most Related Links :
reliableuk Governmental News Finance News