ECONOMY
Tokyo to Extend Emergency; Australia Stays Shut: Virus Update
(Bloomberg) — Tokyo plans to ask the national government to extend the coronavirus state of emergency, according to the Nikkei, after the pace of decline in cases slowed in recent days. Hong Kong is probing the death of a man who received the vaccine. Australia's international border will remain shut for at least another three months.
U.S. President Joe Biden said the U.S. may have enough vaccine for every adult American by the end of May as Merck & Co. Inc. confirmed it will help make rival Johnson & Johnson's shot. He said he hopes the nation can return to normal a year from now.
Switzerland is considering allowing Covid-19 self testing after having vaccinated a quarter of people at risk. Ireland reported the fewest new cases since December, in a latest sign that the virus there is easing.
Subscribe to a daily update on the virus from Bloomberg's Prognosis team here. Click CVID on the terminal for global data on cases and deaths.
Australia Extends Its Border Shutdown (7 a.m. HK)
Australia's international border will remain shut for at least another three months, as the government considers the Covid-19 situation overseas an "unacceptable public health risk."
The human biosecurity emergency period will be extended to June 17. The provisions include required pre-departure testing and masks on international flights, restrictions on cruise vessels and outbound travel for Australians.
Hong Kong Man Dies After Getting Vaccine (6:15 a.m. HK)
Hong Kong's health authority is investigating whether the death of a 63-old man is related to inoculation with the Covid-19 vaccine, it said late Tuesday.
The man received the vaccination on Feb. 26, developed shortness of breath two days later and went to a hospital. He died on the same day.
Biden Sees 'Back to Normal' in a Year (4:55 p.m. NY)
President Joe Biden said he hopes the U.S. would be back to normal "by this time next year" but said he'd been cautioned not to provide a specific date "because we don't know for sure."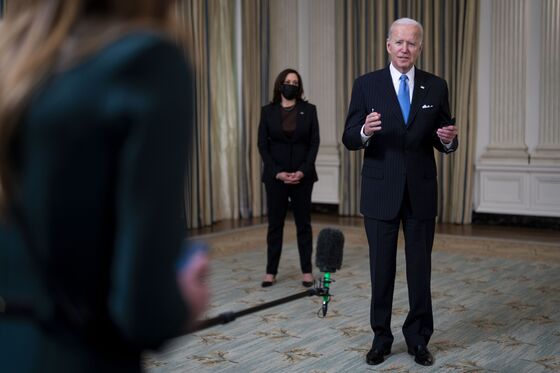 He announced that Merck & Co. will help make Johnson & Johnson's single-shot coronavirus vaccine — a collaboration between rivals aimed at ramping up the pace of inoculations that will help provide enough supply for every adult in the U.S. by the end of May.
Biden also called for state and local governments to prioritize teachers for vaccinations, as he pushes for schools to reopen safely with full-time classroom instruction.
Texas, Mississippi Are Opening Up (3 p.m. NY)
Texas Governor Greg Abbott lifted the mask mandate and other anti-pandemic restrictions amid declining hospitalizations and infection rates in the second-largest U.S. state. Mississippi also loosened its rules, CNBC reported.
Effective March 10, all businesses will be allowed to open at 100% of capacity, Abbott said during a media briefing in Lubbock on Tuesday. His executive order allows county judges to reinstate anti-virus rules should hospitalizations surge.
Abbott's anti-pandemic measures have drawn the ire of his conservative electoral base, which saw them as government overreach, and may have wounded any presidential aspirations. He received 0% of the vote in a presidential straw poll at the Conservative Political Action Conference this past weekend.
San Francisco to Reopen Indoor Dining (2:25 p.m. NY)
San Francisco Mayor London Breed said indoor dining, movie theaters and gyms can reopen on a limited basis after California moved the region to a less-restrictive tier.
"Thanks to everyone in our City acting responsibly and doing their part, we can take another step towards reopening and beginning our recovery," Breed said in a statement.
U.S. States Get Boost in Vaccine Shipments (1:10 p.m. NY)
U.S. states will see a boost in Covid-19 vaccine shipments next week, on top of an initial burst of the recently authorized Johnson & Johnson vaccine.
President Joe Biden's administration will allocate 15.2 million doses next week for shipment to states, up from 14.5 million allocated this week, White House Press Secretary Jen Psaki said on Tuesday after the administration held its regular call with governors.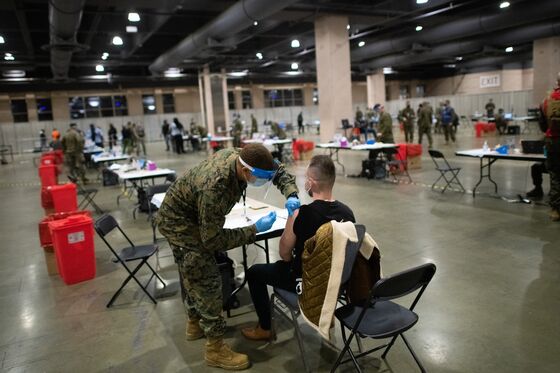 The government also announced that 2.8 million J&J shots were sent to states, marking the first time they've shown how they'll divide an initial tranche of the newly authorized shot. The U.S. received a stockpile of 3.9 million J&J doses. Psaki's statement suggests the remainder, about 1.1 million, will be sent to pharmacies and community health centers.
Ireland Has Fewest Cases Since December (12:50 p.m. NY)
Ireland reported the fewest new cases since December, in a latest sign that the virus there is easing. There were 359 newly confirmed cases, the health ministry said. That's the least since Dec. 15. The drop is welcome, deputy chief medical officer Ronan Glynn said, although he warned it may be attributable to a so-called "weekend effect." The country also reported 14 more deaths.
EMA Panel to Rule on J&J Vaccine March 11 (11:50 a.m. NY)
The European Medicines Agency's human medicines committee is expected to give its recommendation for the vaccine developed by Johnson & Johnson subsidiary Janssen on March 11, EMA said in a tweet. The panel has an extraordinary meeting scheduled for that day, aiming to conclude the evaluation.
NYC Could Hit 5 Million Vaccinated by June (10:43 a.m. NY)
New York Mayor Bill de Blasio said the city is on track to hit 5 million fully vaccinated by June. "We can do it as long as we get that supply," he said.
The city of about 8.4 million residents is focused on getting supply where it's needed most. It will open a vaccination site Thursday at Co-Op City, a massive residential development in the Bronx with about 50,000 residents and its own zip code.
De Blasio also asked state officials for the freedom to add lifeguards, sanitation workers, district attorneys and courtroom staff, board of elections staff and more to the eligibility list.
Danish PM Says Plant With Israel Possible (10:30 a.m. NY)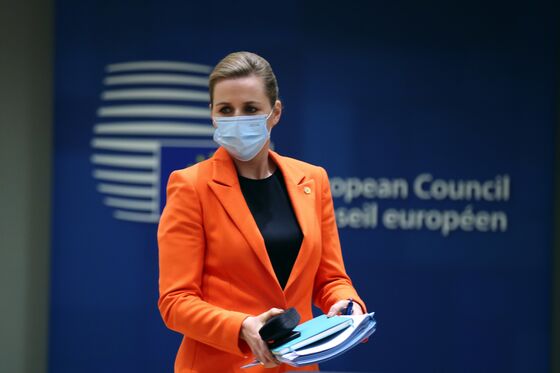 Denmark may become a joint owner of a coronavirus vaccine facility in Israel as a way to dramatically ratchet up capacity.
Joint ownership of such a plant would help Denmark to "significantly" up its game and inoculate people repeatedly over several years, Prime Minister Mette Frederiksen said.
NYC Administers Over 2 Million Doses (10:15 a.m. NY)
New York City has administered over 2 million Covid-19 vaccine doses, Mayor Bill de Blasio says in a tweet.
Scotland May Consider More Easing (9:37 a.m. NY)
Scottish First Minister Nicola Sturgeon confirmed that more school children will return to full-time education from March 15, including all those attending primary school, and aims to have all pupils back at school after the Easter holidays.
With the number of cases falling and vaccinations now up to 1.6 million people — about 30% of Scotland's population –- Sturgeon also said her government may consider an accelerated easing of the country's lockdown.
Tokyo to Seek Extension of Emergency: Nikkei (9:02 a.m. NY)
Tokyo plans to ask the national government to extend the coronavirus state of emergency that is due to expire this weekend, according to the Nikkei.
The state of emergency was lifted toward the end of February in Japan's western regions. Although numbers in Tokyo have fallen from the record levels in early January that led to the emergency being declared, the pace of decline in cases has slowed in recent days in Tokyo and some surrounding areas. The city is looking at an extension of around two weeks, the Nikkei said.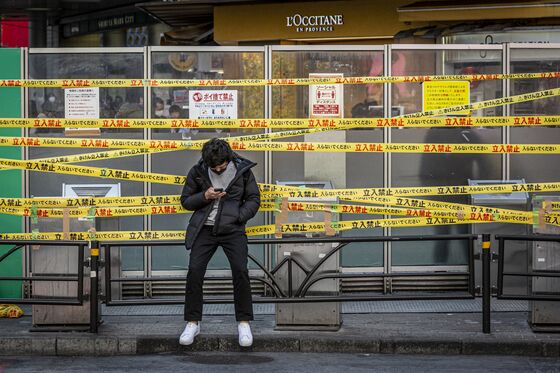 No Sign Brazil Variant Has Spread Further in U.K. (9 a.m. NY)
"We have no information to suggest the variant has spread further," Health Secretary Matt Hancock told the House of Commons. He said a search has narrowed to 379 households in the south of England as the government tries to find the unidentified individual who tested positive for the variant.
"We've identified the batch of home tests in question," he said.
Dutch Case Tally Climbs for Third Week (8:51 a.m. NY)
The total number of confirmed coronavirus cases rose for a third consecutive week in the Netherlands, though the tally remains below peak levels. In the week ended March 2, 31,984 people with Covid-19 were confirmed, up from 29,977, health agency RIVM said. The number of fatalities fell.
Meanwhile, bar owners are among businesses calling for less-strict lockdown rules. Two establishments in Amsterdam and the city of Breda in the south of the country briefly reopened outdoor seating areas on Tuesday in protest, defying nationwide rules, according to local media reports.
Switzerland May Allow Self-Testing (8:20 a.m. NY)
Switzerland is considering allowing Covid-19 self testing, according to the Federal Office of Public Health. Director Anne Levy said it would require a change to the law, and some issues related to test effectiveness would need to be sorted out.
Switzerland has now vaccinated a quarter of people at risk, according to local authorities.
Ukraine's President Gets Vaccinated (6:07 a.m. NY)
Ukraine President Volodymyr Zelenskiy announced his vaccination in a tweet on Tuesday.
Most Related Links :
reliableuk Governmental News Finance News